Originally authored by SN Gupta, the book is now in its tenth edition and has been given a contemporary revamp by Rajesh Narain Gupta and Amit Aggarwal of SNG & Partners, to address some modern-age problems.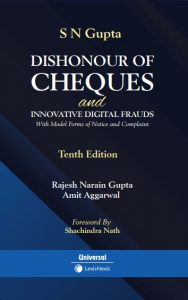 Rajesh Narain Gupta, Managing Partner, and Amit Aggarwal, Senior Partner and Head of Corporate Practice at SNG & Partners recently announced the release of the tenth edition of SN Gupta's legendary book "Dishonour of Cheques and Innovative Digital Frauds."
Originally authored by SN Gupta, its tenth edition has been given a contemporary revamp by Rajesh and Amit to address some of the modern-age problems and complexities that have arisen since the release of the previous editions.
The tenth edition continues the tradition of excellence set by its original author, SN Gupta, and pays tribute to his invaluable contributions to the field of law and jurisprudence. While his profound insights into the legal aspects surrounding the dishonour of cheques served as the foundation for this seminal work, the new edition takes a giant leap forward by incorporating the latest developments and challenges in digital fraud.
The revised edition aims to equip legal practitioners, scholars, and professionals with the knowledge and tools needed to address the innovative digital frauds that have emerged in recent years. The authors have meticulously updated and expanded the scope of writing to cover a wide range of contemporary issues, including the legal aspects of digital payment systems, cryptocurrency, e-commerce disputes, and cybercrime.
On the launch of this new edition, both Rajesh and Amit issued a joint statement, sharing their thoughts.
"To touch a book that has achieved iconic status over the years is always a risky territory as we had large boots to fill! SN Gupta's original insights into the realm of dishonour of cheques remain a cornerstone of this book, and we have strived to maintain the excellence he established in his earlier editions. In this revised edition, we have endeavoured to go beyond the traditional confines of cheque dishonour and incorporate the latest trends and issues pertaining to digital fraud. Our goal has been to provide legal professionals and scholars with an updated toolkit to confront the intricate challenges presented by the digital landscape. As we have contemporized this seminal work, we have strived to preserve the essence of its core subject matter, viewing the dishonour of cheques and digital frauds through a contemporary lens," they said.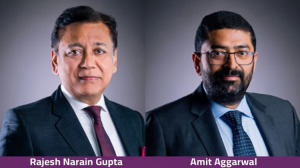 By amalgamating the rich historical context with the evolving complexities of the digital era, this edition seeks to honour the timeless relevance of SN Gupta's original contributions, resonating with the challenges and opportunities presented by today's technologically-driven legal landscape.
The book has been published by Lexis Nexis Universal and the editorial team from SNG & Partners that helped Rajesh Narain Gupta and Amit Aggarwal has been led by Devyani Dhawan. Associates Ayushi Parnami and Srishti Bansal contributed to the research extensively.